See the latest and ultimate 89+ List of Job Portals in Singapore. If you are looking for a job in Singapore then this list is only for you.
Singapore job portals list
FastJobs
Glassdoor
InternSG
JobsDB
JobStreet
LinkedIn
Monster
MyCareersFuture
StartUp Jobs
TalentTribe
Tech in Asia
Wanted
Adzuna.sg
Angel List
Beam
Best Jobs
Building Careers Portal – Built Environment
Campaign Asia-Pacific
Career Mums – For Mums Returning To The Workforce
Careerbuilder
[email protected] – The Singapore Public Sector Job Portal
Caregiver Asia – Part-Time & Freelance Caregiver Jobs
Carousell
Cult Jobs – Creative Jobs in Singapore (Advertising, Media, Design, Marketing, Startups, Internships)
Cultjobs
CultJobs
Culture Push
E27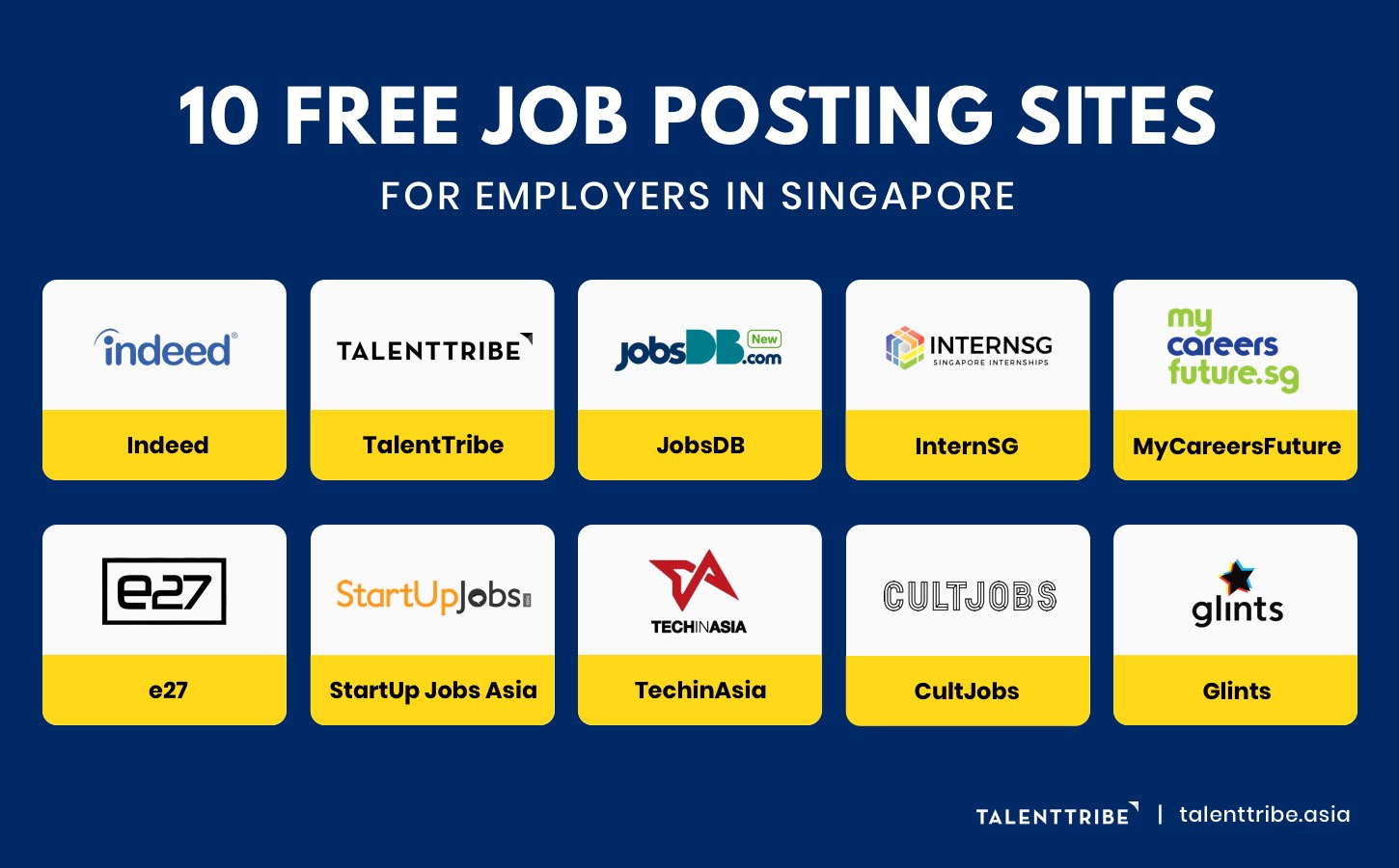 eFinancialCareers
eFinancialCareers – Highly recommended for finance jobs
FastJobs – Non-Executive & Part-Time Jobs
Find SG Jobs
Freeboh
Freelance Zone
FutureWork.Sg
Glassdoor – Jobs and Company Reviews
Glints
Glints – Internships for Fresh Grads
Google for Jobs
GrabJobs
GradSingapore
Gumtree
HeadHunt
Indeed Singapore
InternSG
ISCOS – Job Support for Ex-Offenders
Jobiness
JobisJob India
Job-Q.com
Singapore Job portals
Jobs Singapore
Jobs.com.sg – Meta Job Aggregator
JobsCentral
JobsCentral – Mass Market Job Portal
JobsCyclone
JobsDB – Mass Market Job Portal
Jobsfinder.SG
JobSpotting
JobStreet Singapore
Jobstreet – Largest Job Portal in Singapore
JobTech
JobWiz (Tech Job Portal)
Maritime Singapore Connect – Maritime
Monster Singapore
Monster – Mass Market Job Portals
[email protected] – For Mums Returning To The Workforce
My Careers Future
My Technology Jobs
MyCareersFuture – Singapore Government Built Job Portal for Private Companies (formerly Jobs Bank).
National Council of Social Service (NCSS) – Social Service
Part Time Jobs SG – Part-Time Jobs
Randstad
Recruit.net
RecruitAsia
RegionUP – High Paying Jobs For Senior Executives
Rigzone.
SG Enable – Special Needs & Disability
SG United Jobs – Short-term Positions in Public Service and Private Sectors
Singapore Hotel Association
Singapore Job Market Forum
Singapore Part-Time Jobs
SMA
ST Jobs – Mass Market Job Portal
StartUp Jobs Asia
STJobs
StreetDirectory
TalentTribe Asia
Tech In Asia
The Legal 500 – Recommended for legal jobs
Top Financial Jobs
Top IT Jobs
Wanted
WhatJobs? Singapore
Work Singapore.